Posts for: July, 2017
By Trish Palmeri, DDS
July 27, 2017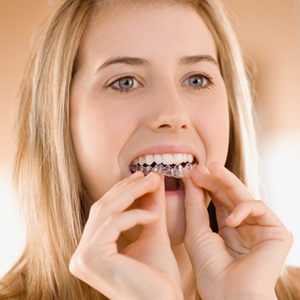 Do-it-yourself (DIY) whitening kits are a popular option for restoring a healthy shine to stained and dulled teeth. They're relatively safe and generally live up to their packaging claims.
But a home kit might not always be your best option. Here are 4 reasons why DIY whitening might not be right for you.
You're on the early side of your teen years. Tooth whitening at home is quite popular with teenagers. For older teens it doesn't really pose a dental risk as long as you use the product appropriately (more on that in a moment). However, the immature enamel of younger teens' permanent teeth is still developing and can be vulnerable to damage by whitening processes.
You don't follow instructions well. Not to say you have this particular character quirk — but if you do you may run into trouble with DIY whitening. Home kits are safe if you follow their instructions carefully. If you use them to excess as one 13-year old boy was reported to have done, you could severely (and permanently) erode your teeth's protective enamel.
Your teeth are in need of dental work. Tooth whitening can't fix everything that may be contributing to an unattractive smile. It's always better to have issues like dental disease or chipped teeth addressed first before whitening. And, if your tooth discoloration originates from inside your tooth, a whitening kit won't help — they're only designed for staining on the enamel's outside surface. You'll need a special dental procedure to whiten internal (or intrinsic) tooth staining.
You want to control the amount of brightness. Home kits don't have the level of fine-tuning that a clinical procedure can achieve. While the bleaching agent in a professional whitening solution is much stronger than a home kit, your dentist is trained in techniques that can vary the amount of bleaching, from a softer white to dazzling "Hollywood" bright. And clinical whitening usually takes fewer sessions and may last longer than a home kit.
If you're interested in teeth whitening, see your dentist for a dental examination first before purchasing a DIY kit. Even if you decide to do it yourself, your dentist can give you buying advice for whitening kits, as well as how-to tips.
If you would like more information on tooth whitening, please contact us or schedule an appointment for a consultation. You can also learn more about this topic by reading the Dear Doctor magazine article "Tooth Whitening Safety Tips."
By Trish Palmeri, DDS
July 12, 2017
As a member of the best-selling pop group Spice Girls, Mel C (AKA Sporty Spice) enjoyed her share of musical superstardom. At the band's peak in the Nineties, the young singer's signature look featured baggy sweatpants, an assortment of tattoos, a nose stud and a gold-capped incisor, front and center in her mouth. Today, Melanie Chisholm is still singing — but now she's a mom, an amateur triathlete… and that gold tooth is just a memory. Not only that, her smile looks more evenly spaced and whiter than it did when she was referred to as the "tomboy" of the group.
What happened? In our view, it all boils down to changing tastes — plus a little bit of help from dental professionals. As the "wannabe" singer proves, there's no single standard when it comes to making your teeth look their best. Your own look is unique to you — and your smile can reflect that individuality.
For example, crowns (caps) are substantial coverings that may be placed on teeth when they are being restored. They are available in three types: gold, all-porcelain, or porcelain-fused-to-metal. The latter two are tooth-colored, while the gold is — well, shiny like gold bling. Which one is right for you? In many cases, it's your choice.
Likewise, dental veneers — wafer-thin shells that can correct cosmetic issues by covering the surface of your teeth — can be made in a variety of shades. Their hues may range from natural ivory to Hollywood white, and everything in between. What's the best color for you? Only you can say.
Some people opt for a "smile makeover" that uses small irregularities in the spacing and color of teeth to create a more "natural" look. Other folks want a perfectly even, brilliant white smile that dazzles the eye. Still others are looking to match or restore the smile they once had — perhaps even re-creating a signature gap between the teeth. As long as there are no other dental issues involved, the choice is yours.
So if you're unhappy with your smile — or if you feel it doesn't reflect the person you "wannabe" — why not talk to us about a smile makeover? Just call our office to schedule a consultation. You can learn more about this topic in the Dear Doctor magazine articles "Beautiful Smiles by Design" and "The Impact of a Smile Makeover."